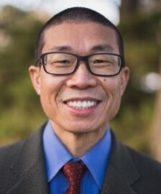 MANNY MOY, MD
Dr. Moy was born in Taishan, China in southwestern Guangdong Province. He grew up in Oakland, CA after immigrating to the United States when he was nine years old.
Dr. Moy attended University of California at Berkeley, graduating with a B.A. in molecular cell biology. He then graduated from California College of Podiatric Medicine at Samuel Merritt University in 1997 and completed his residency and diabetic foot reconstruction fellowship at Yale-New Haven Hospital in Connecticut. Dr. Moy maintained Chief Resident status during his residency training and presented numerous lectures on diabetic wound management, Lisfranc fractures, Charcot-Marie tooth deformity reconstruction, diabetic foot reconstruction, and several other podiatric presentations.
During his time as a medical student, Dr. Moy was published in the Journal of Vascular Surgery, the Journal of Foot and Ankle Surgery, and others with research articles including topics on limb salvage, ischemic limbs, and lower extremity bypass, as well as plantar plate repair techniques. He founded his own clinic in Portland in September 2001.
Dr. Moy is a proud father of twin boys, and in his spare time he enjoys playing with them and watching them grow. He speaks both English and Cantonese. When his boys aren't keeping him busy, Dr. Moy is active playing tennis, traveling to the Oregon coast, cooking authentic Chinese food, and spending time with his significant other.