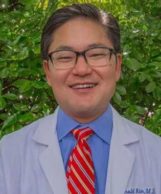 Specialty:
Otorhinolaryngology (ENT)
Neurosurgery
General Surgery
Dr. Harold Kim was born in Busan, South Korea, before he and his family immigrated to the Pacific Northwest. After receiving his undergraduate degree at the University of Washington, he attended the Albert Einstein College of Medicine and stayed on for his internship in general surgery as well as his residency in otolaryngology (ear, nose, throat). Additional subspecialty fellowship training in otology/neurotology and skull base surgery was obtained at the Northwestern University School of Medicine in Chicago, IL.
He has been in private practice in Portland since 2004. Dr. Kim's practice encompasses the field of otology and neurotology, caring for individuals with chronic ear disease, hearing loss, dizziness, and skull base conditions such as acoustic neuroma and glomus tumors. He offers surgical as well as medical treatments to produce the most optimal results. Surgical procedures performed include the following:
Tympanoplasty
Tympanomastoidectomy
Stapedotomy
Cochlear implantation
Bone-anchored auditory implant insertion
Superior semicircular canal plugging/resurfacing
He also is Electa certified in gamma knife radiosurgery for acoustic neuroma and glomus jugulare tumors.
Dr. Harold Kim is certified in Otolaryngology and Neurotology by the American Board of Otolaryngology-Head and Neck Surgery.
Furthermore, Dr. Kim is one of a handful of fellows of the prestigious American Otological Society as well as the Triological Society (American Otological, Rhinological, and Laryngological Society). These societies necessitate a research thesis as well as a tangible contribution to the field of otolaryngology.
In his spare time, Dr. Kim enjoys running, cycling, and spending time with his wife and three children.